Advanced Septic Services • Clermont • Groveland • Minneola •
Lake County • West Orange Areas
Honest. Reliable. Professional. Affordable. Local.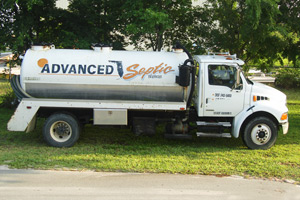 RECOMMEND THEM TO ANYONE! Josh and the whole Advanced Septic team were amazing! We chose them to do our septic inspection for the home we are trying to purchase and they were reliable and professional. I would recommend them to anyone who wants to know that the job will be done right the first time!
SAME DAY APPOINTMENT! Advanced Septic Services is great! I left an online contact notification with them around midnight and at 8:30 the next morning they called and set up a same day appointment. Their serviceman Josh called first and showed up just prior to the set appointment time and was EXTREMELY professional, polite and efficient. He educated me on a few simple things I didn't know about septic systems and proceeded to locate and pump my tank along with cleaning the filter. He was done in less than an hour and a half. I will be using only them for any future septic needs and I HIGHLY RECOMMEND them to anyone in need of service.
PROMPT SERVICE Advised on situation and completed service timely. Very knowledgeable and courteous!!!
FAST, PROFESSIONAL and AFFORDABLE! Kate & Chris at Advanced Septic Services are awesome! Fast Response, Professional, and affordable. Very informative thorough write-up provided to me on the septic pump-out & inspection they performed. Absolutely recommend them to anyone looking for septic services!
A BIG THANK YOU to Advanced Septic who first made a service call on a Saturday to fit my schedule and then explained everything in detail as they did the step by step cleaning. Chris was extremely professional and careful with my property ensuring that my landscape looked as when he arrived. Another thank you to Kate for setting up the service call, your kind demeanor made the difference in me choosing your company. I highly recommend Advanced Septic!
HIGHLY RECOMMENDS!
They were very knowledgeable and friendly. Knew what they were doing… I recommend them.
Work With The Preferred Septic Company Of Lake County
We take pride in providing reliable and affordable septic services to our customers since 1999!
Advanced Septic Services provides septic services throughout Lake County, FL. Advanced Septic Services is your local septic experts specializing in Septic Tanks, Drain Field Repair and Installation, Greasetrap Maintenance, Pump Outs, Septic System Inspections, and Storm-Tech Systems.
Advanced Septic Services has been serving all of Lake County since 1999. Using the most advanced technologies, we offer complete septic tank SERVICES to residential, commercial and municipal clients. We specialize in professional real estate inspections and are fully licensed and insured. Advanced Septic Services can also deliver services to restaurants and communities that need services for grease traps, storm water clarification, and sewer collection systems. With nearly 20 years of combined experience, Advanced Septic Services is considered "best in class" when it comes to providing the latest in technology and equipment. Excellent customer service is our #1 priority, so please feel free to contact us with your questions, comments and suggestions.
If you have any questions on how to contact Advanced Septic Services please contact us via our online form or call us at (352) 242-6100.