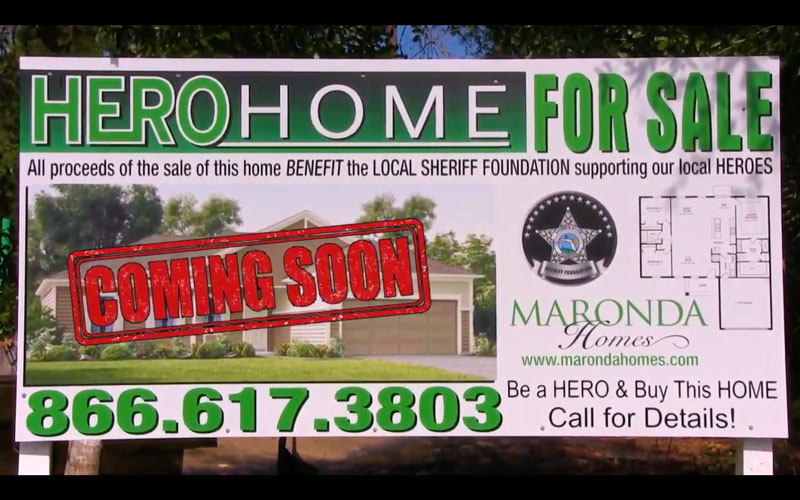 Advanced Septic Services of Florida excitedly partnered with Maronda Homes on a new home installation to benefit the HomeTown Hero Project. We, and all the participating contractors, donated our time and resources in helping build and install the new home.
All sale proceeds benefit the Seminole County Sheriff Foundation and HomeTown Hero Project to help support our local heroes.
Learn more about the project in the video below.
HomeTown Hero Project Video Script
Host: Welcome Back to the Hero Home. I'm with Chris Bryan of Advanced Septic. Chris thanks for being here today. Tell us what's going on, what are you guys up to today.
Chris Bryan of Advanced Septic Services: Well you can see we've already got the septic tank in that we installed a couple days ago. And now we are doing an excavation. You can see we have a high water table here and we're just going to bring some clean fill in and build it all the way up so when we put the drainage layer in we are able to stay above the water table high enough so we get good drainage and it works well for the home.
Host: Yeah, I see obviously, you have a lot of challenge getting the proper dirt to the small, tightly spaced area.
Thanks for being part of the Hero Home. Tell us about the company a bit.
Chris Bryan of Advanced Septic Services: I started this business in 1999. We are a full-service septic company so we install new systems and offer septic services and maintenance. Once a system is installed, down the road the tanks needs to be pumped-out and we do that as well.
We've actually had a partnership with Maronda Homes since 2001, so we've been a partner with Maronda for a long time. So we are happy to be included in this project.
Host: Well we thank you for being a part of it.
Chris Bryan of Advanced Septic Services: Yeah, thank you very much.