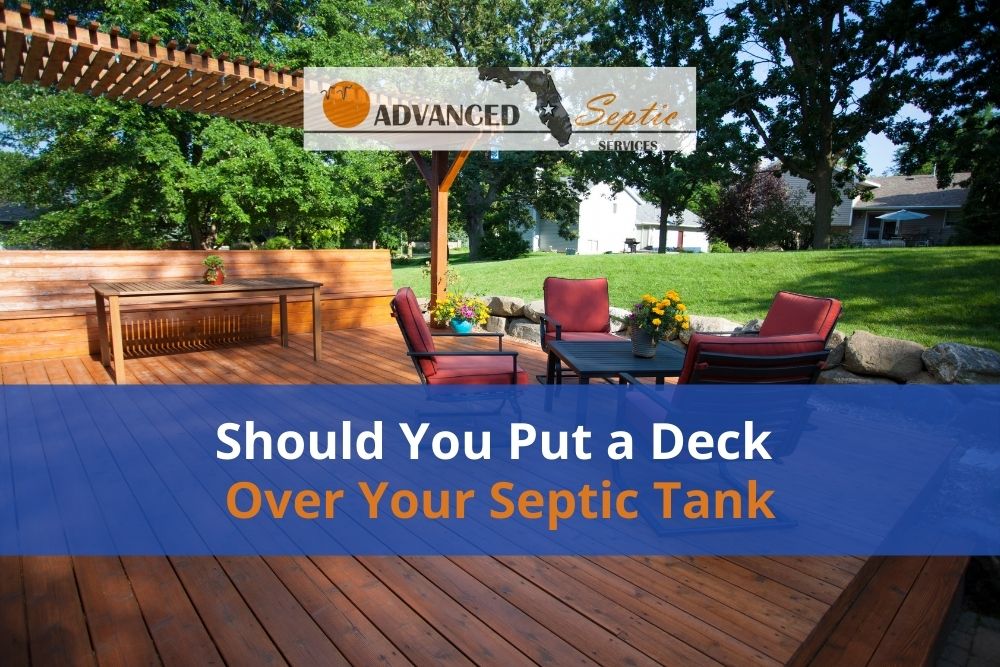 With summer right around the corner, you may be considering putting up that deck you've been talking about for the past few years. After all, a beautifully finished deck makes a great home improvement project and a relaxing space for entertaining guests.
When drawing up the plans for your new deck or patio, don't make the mistake of forgetting about your septic tank!
Many people don't consider their tank as it's often buried underground and not immediately visible. Take the time to locate your tank before you begin any construction projects.
Should You Put a Deck Over Your Septic Tank?
Building a deck, patio, or other structures over your septic tank can cause homeowners a headache and potentially a costly repair down the road.
In short, the answer is no — the generally accepted advice is that you shouldn't be building a deck on your septic tank. If this was your original plan, it's best to go back to the drawing board to see if there's another option.
Some states even outline detailed requirements around how closely you're allowed to build a structure to your tank. Many zoning ordinances require you to build at least five feet back from the edge of your septic tank to avoid possible interference.
Check with your local health department to gather the most up-to-date information and advice before going ahead with any projects above or around your septic tank. They will be able to provide you with the necessary precautions to take when building near your septic system.
What Is the Issue With Building Over Your Septic Tank?
Inevitably, your septic tank will need to be serviced at some point — whether for regular maintenance or in the case of an emergency where your toilets are backed up and potentially flooding your home. The service team must gain immediate access to your tank in this scenario.
If a structure has been built over the tank, the repairmen may need to dismantle the deck to reach the tank to assess the issue. The homeowner would pay for the repair service AND a new deck.
You'll want a map of where your septic tank is on the property before you begin excavating an area for construction.
If you were to pierce or otherwise damage your tank inadvertently, this can lead to a costly repair.
It's not uncommon for septic service companies to find that a tank is covered by a deck or patio structure. Often, homeowners may have been unaware that their tank was even underneath!
A Note On Building a Deck Over a Drain Field
Another consideration to keep in mind is where the septic drain field is located on your property. This is another less than ideal location for your deck to be built — as it can cause numerous other issues for the septic system's functionality.
Covering your drain field with a deck or patio can prevent full sunlight from reaching the soil, preventing the effluent from circulating and evaporating correctly. This can lead to a noticeable odor, and of course, you don't want to be relaxing on your deck amid an unpleasant stench.
Before you begin to build, the recommendation is that you look at a map of your property to understand where everything is located underground, such as tanks and pipes. This can help you avoid any unforeseen roadblocks during construction and expensive and avoidable repair jobs later on.
Need Help? Call In the Professionals!
Instead of flying blind, you can always giveAdvanced Septic Services a call, and we'll be happy to help with any of your septic tank needs. We can even help you locate your tank if you're having trouble.