The best thing you can do to prepare for a septic installation is to find a quality septic system company. If you find someone you can trust, you won't need to worry about most things. And with a few small steps, you can feel confident that you will have a functional septic system for years to come.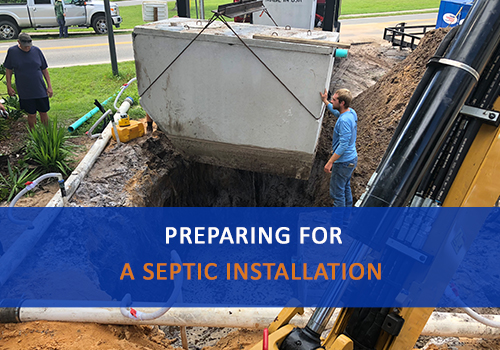 7 Ways to Prepare for A Septic Installation
1. What are Your Water Needs?
There are different sizes of septic tanks. For residential purposes, septic tanks usually range from 750 to 1250 gallons. The tank's size will depend on the number of people living in the house, the size of the house, and how much water is used by household appliances and people. If you want a septic system that will serve you for a long time, you need to let your septic company know all of this information before the septic installation. They can choose the right size for your needs, so you don't have to guess. 
2. What is Your Budget
Of course, you have to consider your budget when planning for a septic system installation, and it is essential to discuss this with your septic company before installation day. An installer will likely visit your property before and determine what they can offer for your location and needs. 
3. Know the Regulations for a Septic Installation
In Florida, the department of health regulates septic system installation. They will provide you with an application which will outline the regulations, let you know of the fees for applying, and any other requirements. You will also need to get a soil test done and include this with your application. Not only is this necessary to proceed with the installation, but it will also help you determine where to place the system, keeping in mind that you cannot place any vehicles, structures, or even larger plants around the area. 
5. Make a Plan for Your Family During Installation
You don't want to get to installation day unprepared. Generally, while a septic system is being installed, you will be without water in your house for at least two to five days. It's a good idea to plan for a week without water just in case since weather and the soil can affect the speed of the process. Consider staying with friends or family, renting a portable toilet, or staying at a hotel. Whatever you do, you should have this decided before the day comes. 
7. Ask Any Questions to a Trusted Septic System Company
There are things you can and need to do as a homeowner to prepare for a septic system installation. But, at the end of the day, the key to a successful installation is a septic company you can trust. In Florida, you can find a certified septic company on the department of health website. A septic company can walk you through what you need to do and what they can do for you in preparation. They can answer any questions you have regarding budget, location, timeframe, or anything else.