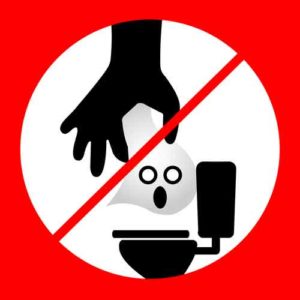 Cleaner. Fresher. Flushable. Two out of three things are correct when it comes to the newest bathroom craze – flushable wipes. With companies claiming "flushable", "septic safe" and "dissolves as easy as toilet paper" plainly on their products, its becoming a big problem for septic systems and sewers alike.
To State It Clearly— Don't Flush Flushable Wipes.
Tests done by *ConsumerReports.org, independent labs, and home mythbusters clearly reveal the problem. When mixed with water, most toilet paper breaks apart in a matter of minutes. Not true with the so-called flushable wipe. Even after placing wipes in a blender for over 10 minutes many of the wipes still did not break apart. Imagine that in your pipes or your septic!
One Home Septic Owner Learns About Wipes The Hard Way
One family learned this the hard way through a $325 expensive lesson. With a new home and septic system (less than 3 years old) they were concerned when water started backing up into their basement from their septic system. Convinced something was amiss or broken they called in the experts before ultimately finding the culprit—a 2ft layer of untouched, unbroken down flushable wipes blocking their septic tank.
The Flushable Wipe Problem Is Not Limited To Septic Systems
And it isn't just limited to septic systems. In 2013, after having to replace filters and pump stations, the Washington Suburban Sanitary Commission spent more than $1 million installing equipment needed to shred the materials. In New York the EPA has spent over $18 million to have wipes removed with one doctor filing a class action suit against the makes of these wipes, as reported by ABC News.
It has gotten so out of hand, that an independent lab in Wisconsin has set out to prove just how bad flushable wipes are for septic and sewer systems. The results? "Over 90% of the materials found in clogs consist of articles that were never intended to be flushed." And it's not just that materials, the antibacterial components can have a serious adverse effect on bacteria needed to keep your septic tank healthy.
The solution? Do not flush your "flushable wipes." Use the trash can, not your toilet.
Click Here for a complete list of Do Not Flush Rules for septic systems
*This information is shared for your personal purposes only. Consumer Reports™ is a registered trademark of Consumers Union of United States, Inc. Advanced Septic Services is not affiliated with or endorsed by Consumer Reports™.