With the temperatures back in the upper 80's and 90's, we begin seeing the Snowbirds' departure from Florida. With that comes vacant homes and condos. But, are you doing everything right when leaving your vacation home? How do you prepare a vacation home to be empty until the temperatures begin to dip again? Here are a few tips for Snowbirds leaving Florida.
Tips for Snowbirds and Vacation Home Owners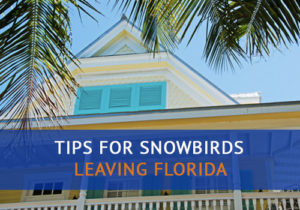 When you aren't living in your home there is often no way to know if there is an issue. Set yourself up for success by following these tips for vacation home owners before leaving your Florida home.
Stopping the Mail
Don't let the mail pile up in your mailbox or the newspapers stack-up in the driveway. In fact, you might as well put a sign that says "empty home" in the yard.
Refresh All the Batteries
Make sure all motion-activated sensors, smoke detectors and other battery-powered devices have fresh batteries. It's worth finding a neighbor or friend to swing by and check and replace batteries occasionally.
Consider putting an automatic light in your home that turns on throughout the day. This way, anyone passing by will think the home is occupied or in use.
Plumbing and Septic Systems
Fixing septic issues is easier when you're on-site, not 2,000 miles away.
Are any of the drains running slower? Has it been a few years since your last septic pump-out or septic inspection? Has your septic system been under high-stress lately?
If you think something may be off about your septic system or plumbing, get it checked-out before you leave (and save yourself a headache). Contact Advanced Septic Services of Florida today to schedule an appointment.
Preparing Your Yard for Heavy Rain
It rains in Florida, almost daily in the Summer months. In fact, it's almost like clockwork at 4:00 pm every afternoon.
Can your yard (and your drainfield) handle the extra water and potential debris? One of the big tips for Snowbirds leaving Florida is preparing their yard. Clean out your rain gutters and create a clear path for water running to the drain. Clear any existing debris from the area.
Your drainfield is quickly overwhelmed when the soil becomes saturated, causing backups that will go unnoticed when no one lives in your vacation home. Preparing the yard to handle the rain sets you ahead.
Thoroughly Check the Exterior
Florida's known for alligators, sunshine, and hurricanes. The last of which can wreak havoc on an ill-prepared home.
While it's ideal to have a neighbor or friend you can rely on to further hurricane "proof" your home in your absence, securing the exterior before you leave is the first step.
Check all windows and doors, filling any cracks or openings with caulking. Inspect the roof for any missing or cracked tiles or materials. Replace any questionable seals.
Keep Your House Cool
Just because you aren't there, doesn't mean the A/C can get turned off. Florida is hot—and humid. Most modern A/C units in Florida also have dehumidifying effects. Leave your vacation home to swelter and expect some water/humidity damage upon your return.
Some other tips for Snowbirds worried about water damage? Turn off anything with water. This includes the washer machine, ice machine, dishwasher and water heaters.
Worried About Leaving Your Florida Home Empty?
With so much to worry about, it's easy to be stressed about leaving your Florida vacation home empty.
Instead, consider renting it. Sites like Airbnb and VRBO offer you a short-term solution. However, make sure you have a friend or property manager check for damage after every visit as well as a cleaning service to tidy up.
When you want to escape the cold Northern winters, having a second home, condo or apartment in Florida helps. But, it's not all sunshine and rainbows. These tips for Snowbirds leaving Florida will help make sure you continue having a home to escape to when the temperatures dip again up North.