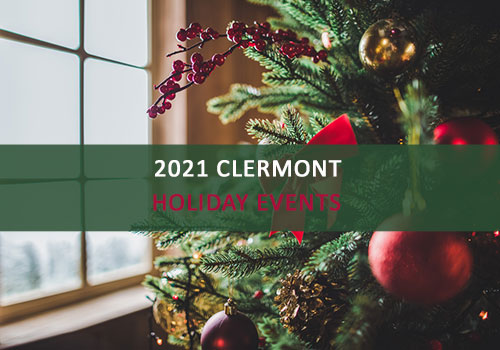 After a wild year or two, we are excited to join our community out and about for the Holiday Season. Looking to get into the Christmas Spirit? Check out these Clermont Holiday Events.
Plenty is going on, from tree-lighting ceremonies to wreath decoration, live music, and more. So grab your partner, your friends, and your kids, and we will see you out there!
2021 Clermont Holiday Events
Light Up Clermont
Where: Historic Downtown Clermont
When: December 3rd and 4th
Cost: Free to Attend
It's a Tradition and one of our favorite Clermont Holiday Events! Join the community and City of Clermont's Mayor Murry for the annual lighting of the tree in Downtown Clermont. The theme this year is Gnome for the Holidays so get ready for costumes, decorations, and fun! A variety of food trucks and local vendors will be on hand.
Santa's Enchanted Forest
Where: Lake Catherine Blueberry Farm
When: Every Friday and Saturday until December 18th
Cost: $10 (Adults), $5 (Children 12 and Under), Free for Children 3 and Under
See all the lights and sights at Santa's Enchanted Forest. Hayrides transport you to-and-from the forest and a walking trail displays all of the lights and classic holiday music.
Join in on a scavenger hunt and meet Santa, Rudolph, The Grinch and Buddy the Elf (free photo opportunities available). Write letters to Santa, craft Christmas souvenirs, and more!
Click here to learn more and register.
Christmas on the Water
Where: Ski Beach, Venetian Gardens
When: December 5th, 5:00 – 8:00pm
Cost: Free to Attend
It's Christmas Lights — Florida style. Watch this floating parade as community members enter their boats and decorate them to the nines! Food vendors and entertainment also happening.
Santa's Christmas Tree Forest
Where: 35317 Huff Road, Eustis, FL 32736.
When: December 7th – 12th, opens at 10:00am
Cost: Purchase Tickets (Required for Entrance)
This is more than your average tree farm. Santa's Christmas Tree Farm has it all from Jack's Barnyard Petting Zoo, to zip lining, to food and drinks from the Kettle & Grill and Thirsty Elf, to cutting down your own tree. This is one of the must experience Christmas Holiday Events.
With the farm being an intimate place, tickets are required for entry and should be pre-purchased and sell out quickly. Click here to register today.
Cookies and Cocoa Walk
Where: Downtown Clermont
When: December 10th, 6:00pm – 9:00pm
Cost: Free to Attend
Cookies aren't just for Santa! Join the Clermont Community for a variety of cookies and hot cocoa while you stroll and enjoy the festive lights.
Santa's Twilight 5K
Where: Downtown Clermont
When: December 11th, 6:00pm – 9:00pm
Cost: $45 (in-person), $35 (virtual event)
Get your heart rate up this Holiday Season at the annual holiday-themed 5K in Downtown Clermont. This 5K Fun Run or Walk goes through the festive streets of Clermont and the Enchanted Tree Forest at Victory Pointe. All participants receive a bib, timed results, goody bags and candy, holiday shirt, and a themed finisher medal. Make sure to get into the spirit with provided glow sticks and jingle bells for participants.
And don't forget about the costume contest!
Winter Wreath Walk
Where: Oakland Nature Preserve
When: December 17th – 19th, 6:00pm – 8:00pm
Cost: Free to Attend
Get into the festive spirit and help design decorative wreaths at the inaugural Winter Wreath Walk at the Oakland Nature Preserve. The wreaths will line the Health West Orange Boardwalk to the Lake Apopka Pavilion for the Christmas season.
There will also be a silent auction to purchase wreaths to decorate your own home. Learn more and register your wreath design at https://oaklandnaturepreserve.org/wreath
Sunday Farmer's Market
Where: Downtown Clermont
When: Sundays, 9:00am – 2:00pm
Cost: Free to Attend
Shop local this Holiday Season at the Clermont Farmer's Market. Stock up on fresh fruits and vegetables for your holiday dishes while grabbing local crafts and items for holiday presents and gifts.