If you install a septic system or purchase a house with an existing system, you hope you have a good long time before needing repairs or replacement. And with septic tanks typically lasting 15 to 20 years, there is a good chance you'll have some time.
But if you purchase an older home or aren't following the golden "Do Not Flush" rules, you may find yourself playing with a ticking time bomb. Luckily, there are a few ways to avoid premature septic failure (and the cost that goes with it).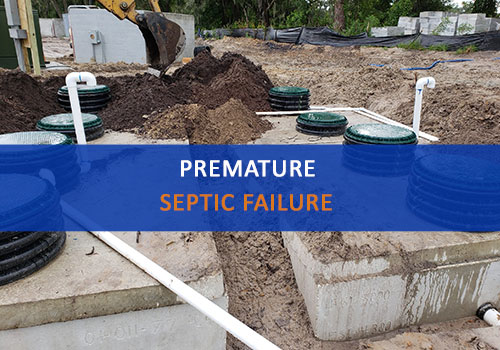 Reasons for Premature Septic Failure
Most septic systems fail from inappropriate use or lack of maintenance, meaning early septic system failure is preventable in most cases. 
Misuse
Owning a home with a septic system comes with its own set of rules — rules that you need to follow. Your septic tank is delicate, and if not used properly, it can't perform its job of treating the waste from your home.
Misuse of your septic system includes things like:
overusing water

flushing flushable wipes

using your garbage disposal like a trash can

cleaning with harsh chemicals

planting septic unsafe plants and landscaping
Wondering what else is in the Do Not Flush Rules and Septic Tank Use Rulebook? Click here to see the list.
No Maintenance Schedule
While a septic tank can last decades, that doesn't mean you can forget about it for decades. 
Forgetting (or avoiding) getting your septic tank pumped means septic backups and system failure. Without pumping out the growing sludge layer, it eventually takes over your system and doesn't leave room for any wastewater treatment. But, it has to go somewhere…
So instead of having all that untreated waste back up into your home, have your septic company pump it into their truck.
Improper Installation
When installing a septic system, make sure to use a reputable septic company. How do you find out if they know their stuff? Check their local reviews, ask them questions, and verify they are licensed and insured with experience working in your area and local environment. 
If you're looking for septic services in Central Florida, look no further than Advanced Septic Services. We have proudly served the Lake County and Central Florida community since 1999. We are certified by the Florida Onsite Wastewater Association (FOWA) and committed to protecting the health of residents and maintaining the environment. Fully insured and licensed under FL #SR0011391, we take the septic business seriously.
Failing to Get a Septic Inspection
If buying a home with a septic system, make sure to get the system inspected before purchasing. 
Not only do you want to be definitive about the age of your system (and if repairs and replacements are right around the corner), it will also give insight into who the previous owners treated their system.
An older or misused septic system will need costly repairs sooner than a new homeowner will want.
Septic Failure — What Do You Do?
Whether it's a premature septic failure or just finally the time to replace your aging system, septic failure requires your full attention. 
Calling your local septic company is the first step. From there, your septic technician can let you know a few things:
if it's better to repair or replace your septic system

if there was any possible contamination depending on the level of failure

project timeline
While you may not have planned on septic failure, but that doesn't mean you can put off addressing it. If you need septic repairs, maintenance, or a replacement, call Advanced Septic Services today at (352) 242-6100. We are here for all of your residential and commercial septic system needs in Central Florida.