If your septic tank is full and needs a septic pump-out, it's time to call your trusted septic professional. 
However, if this is your first septic tank pumping experience, you may be a little confused about what to expect during the service.
Knowing what to expect during a septic pump-out can save you time and give you some insight into how your system works. This guide will explain what you should expect when your septic tank needs to be pumped.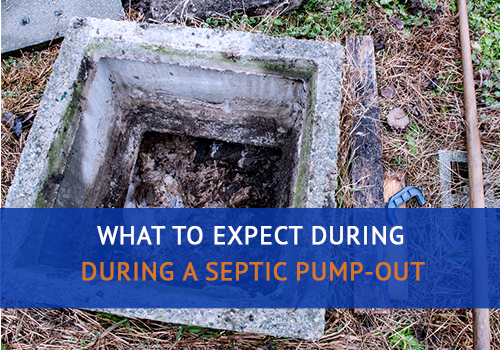 What to Expect Before, During and After a Septic Pump-Out
Expect the Service Provider to Ask Several Questions
Like any contractor, a septic tank service provider will ideally want to know why you called them, what your problem is, and how they can assist you.
They want the full picture often asking several preliminary questions about your septic tank and septic system usage. If you don't know much about your septic tank, it's okay to let the provider know that upon their visit.
With all the information, your septic professional can analyze and give you vital information about any changes in habits that may need to occur as well as a general overview of the health of your system.
Expect Them to Locate the Septic Tank
Your septic contractor will ask where your septic tank is located when they arrive — after all, that's why they are here! 
You can generally find your septic system by:
Browsing your home's "as-built" drawing.

Checking your lawn for manhole and lid covers.
Contacting the contractor that built the home.
Knowing where your septic system and septic tank are helps streamline the process. Especially for those with large lawns.
If the above options of finding your septic system aren't possible, then inform your septic tank provider. Many providers are experienced in quickly locating septic systems. They are the experts for a reason!
Expect Them to Ask if You Have Two Septic Tanks
Thinking, "no way!"? Check again. Some homes have more than one tank based on usage and home size. If your home has two septic tanks, both must be pumped if you are noticing tell-tale signs of back-ups or if it's time.
If you don't know if your home has a dual septic tank system, don't worry. Experienced septic tank professionals can find out and let you know after your repair.
Expect Them to Set Up a Maintenance Schedule After Your Septic Pump-Out
After your septic pump-out, your provider should set up a maintenance schedule to ensure that the system is working properly at all times.
Your provider should take into account the condition of your septic tank, mainly considering how full your tank was since it's last septic pump-out (has it only been a year or perhaps three years?).
Since every home and septic system is different, expect them to consult with you to develop a maintenance schedule that will accommodate your home and system.
Furthermore, you can also expect your provider to follow-up with you periodically to make sure that your septic tank is at its peak performance.