Your restaurant's septic system is a vital component of keeping your guests healthy and happy. While not at the forefront of your mind as a restaurant owner, your commercial septic system has the responsibility of processing all waste from your diners.
A failing septic system can jeopardize your entire business. Here are just a few consequences of having a septic system malfunction.
The backup of wastewater from your septic tank into your restaurant's drains and toilets.

Adverse health effects from exposure to untreated wastewater.
Hundreds, or even thousands, of dollars in septic system repairs.
If you want to avoid these consequences, performing your septic maintenance and following best practices is important. Here are seven ways you can keep your restaurant septic system in working order.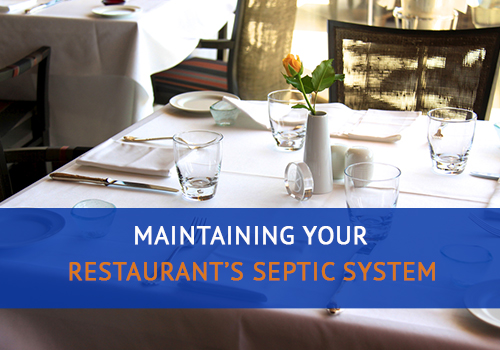 2. Get Your Drains Inspected
Your drains are essential to your restaurant's septic system, primarily because they help wastewater travel from your restaurant into the tank. 
Like the rest of your system, maintaining and regularly inspecting your building's drains helps prevent major malfunctions. Avoiding this responsibility can lead to clogs and foul odors that aren't suitable for any food-related business.
3. Never Pour Grease in the Drain
Never pour grease down the drain. Grease doesn't play nice with your septic system (or any waste disposal system), leading to system backups and full septic tanks. 
When things get hectic in the kitchen, sometimes employees can get moving too fast and forget this crucial rule. For this reason, make sure to put warning signs up for your employees to remind them of the places where grease should never be stored.
4. Use a Strainer
Again, when you get busy, it's easy to skip over standard practices that will contribute to a healthy septic tank system. Nonetheless, you still should never forget to use a strainer to prevent solid food objects from entering your drains.
 Over time, these objects can cause a clog. Spending a few extra seconds using a strainer can save you hundreds of dollars in professional assistance, as well as headaches.
5. Store Your Records in a Secure Location
Every system is different, including your restaurant's septic system. Keep your septic system's records in a secure location. If you ever call on a septic tank service provider, these records will be very useful to them.
6. Consult Your Service Provider Before Making Changes
Adding new equipment in your restaurant may help it run more efficiently, but it also affects your restaurant's septic system.
Whether it's an extra sink or a high-temperature dishwasher, consult with your septic contractor for feedback on how it will impact your septic system.
Keep Your Septic System Working!
Does your restaurant's septic system need an inspection, or do you have any questions related to the topic? Give us a call at (352) 242-6100!