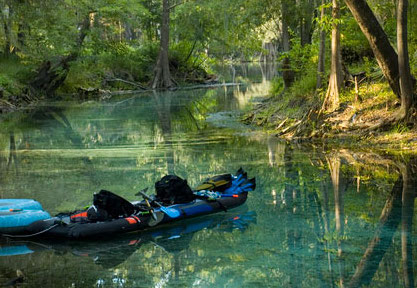 As the name implies, Lake County is fortunate to have an abundance of lakes and waterways, including designated blueway trails.  Blueways are similar to hiking trails – just on water. Geo-positioned and physical markers guide paddlers as they explore through the waterways. These blueway trails include beautiful scenery and abundant wildlife with easy access for kayaks, canoes, and paddleboards.
Exploring Lake County Waterways and Blueway Runs
The Lake County Community Blueways Project helps residents explore eight different scenic runs including:
| Blueway | Location | Length | Difficulty | Water Body |
| --- | --- | --- | --- | --- |
| Blue Creek Run | North Lake County – Astor FL | 4.1 miles | 4 | Blue Creek |
| Stagger Mud Lake Run | North Lake County – Astor FL | 8.63 miles | 0 | St. Johns River, Lake Dexter, Stagger Mud Lake |
| St. Francis Dead River Run | North Lake County – South of Astor FL | 7 miles | 1 | St. Johns River, St Francis Run |
| Lake Griffin Run | Central Lake County – Leesburg FL | 16.72 miles | 1 | Lake Griffin (part of the Harris Chain of Lakes) |
| Golden Triangle Run | Central Lake County – Mount Dora FL | 10.5 miles | 4 | Lake Dora, Dora Canal, Lake Eustis |
| Helena Run | Central Lake County – Leesburg FL | 7.6 miles | 1 | Lake Harris, Helena Run, Lake Denham |
| Lake Harris Run | Central Lake County – Leesburg & Tavares FL | 36.89 miles | 0 | Lake Harris |
| Palatlakaha Run | South Lake County – Clermont FL | 26.22 miles | 1 | Lake Louisa, Palatlakaha River, Lake Susan, Lake Minnehaha, Lake Palatlakaha, Lake Hiawatha, Lake Minneola |
These waterways are found in the St. Johns River, Palatlakaha Basin, Golden Triangle, and Oklawaha Basin areas. Each of these four zones offers different trail user experiences. The Golden Triangle Run goes along lakefronts of Mount Dora and Tavares and is a shorter run that is suitable for novice or casual users. Other trails are wilderness Blueways, located in remote and undeveloped areas that offer paddlers unique opportunities to experience old Florida. Trails are rated from 0 to 5 with zero being the easiest. For additional details on ease of access, wildlife viewing, and an interactive map be sure to visit PaddleLake.com.
Palatlakaha Run Nearest Blueway To Clermont
The Palatlakaha Run is the closest of the designated water trails to Clermont. It is also the longest of Lake County's Blueways Program, comprised of seven different bodies of water (which are also part of the larger Clermont Chain of Lakes).
A section of the Palatlakaha Blueway runs through two protected areas, Crooked River Preserve and the Lake Louisa State Park.  The State Park provides outdoor enthusiasts a wide array of activities from camping, fishing, equestrian trails, hiking, and swimming.
Crooked River Preserve
Purchased in 1993-94, Crooked River Preserve is a 63.4-acre site protected through the Lake County Water Authority (LCWA) Land Preservation Program.  It encompasses an undisturbed section of wetlands along the Lake Louisa waterfront and the Palatlakaha River (aka Crooked River).
A parking area and trailhead allows for exploration of wetlands including bald cypress trees, titi shrubs, a variety of native grasses, and several sinkholes. The mission of Lake County Water Authority is conserving and protecting freshwater resources while providing educational and recreational facilities that foster tourism and reserve the aquatic ecosystem and environment in Lake County as a whole.
As a resident and business owner in the Clermont area, Advanced Septic Services is honored to help protect these waterways with environmentally responsible ways of processing waste. We feel fortunate that Lake County continues their commitment to promote and protect these waterways, ensuring future generations will be able to enjoy the beauty of our area.