Hiring a septic company is an important decision. 
As a delicate and vital system in your household, your septic tank needs to be installed and serviced correctly to remain functional. 
Whether you are purchasing a new system, or replacing an older one… you want to make sure that your money is well-spent, and that you're not wasting it on a contractor who isn't going to put your best interests first. 
In other words, you need to make sure that your septic contractor is the best in the business. 
Asking as many questions as possible before you start the job is a great place to start… and a quality company with experience in the business will make it a priority to answer your questions and put your mind at ease. 
Here are 5 questions that you should always ask your septic company before signing any papers, committing to a project, or handing over any money.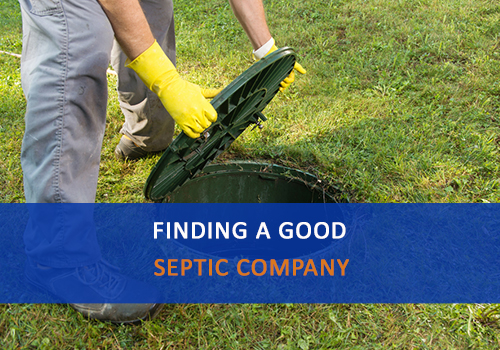 How to Find a Good Septic Company
1 – Are the Contractors Licensed And Insured?
An unlicensed septic contractor is a serious red-flag. At the very least, especially in the Clermont, FL. area, the company should be officially registered at the municipal and/or state level.
If they can't even show you a business license… run the other way!
And insurance is just as important. You never want to work with a company who doesn't at least carry general liability insurance and workers' comp.
Don't be afraid to ask for these things! A reputable septic company will gladly show you proof of licensing and insurance.
2 – Who Is Actually Going To Be Working On Your Septic System?
It's quite common for larger companies to run multiple crews and contractors.
Of course, some of these contractors may be better than others… so it is always a good idea to get into contact with the person who the company plans to actually send out to your project.
Feel free to ask for this information before you commit. Tell them you want to meet the contractor who would actually be present to work on the job.
A septic contractor worth their salt will understand this request, and will make it easy for you!
3 – How Much Exactly Is The Project Going To Cost?
As a general rule, the company should be giving you a specific, itemized project bid before they even start, so that you will know exactly how much you can expect to pay.
Are you having a hard time getting your contractor to commit to a figure? Are they telling you that it just 'isn't possible to know until they get into it?'
If so, then you definitely want to get a second, and probably third opinion before you pull the trigger!
4 – Who Covers Unexpected Overage Costs?
Sometimes, projects end up costing more than was planned.
It isn't fun, but it happens.
Definitely ask your septic contractor about overages and extra costs. Will they bill you for them? Will they cover them?
Also, who is going to pay for permit costs?
If there is a contract, read the fine print before you sign.
Once again, a company worth their salt will be able to talk you through these processes without giving you the run-around.
5 – Can They Provide You With References?
Ask for a list of recent references; other customers who have used this contractor in the past 3-6 months.
A reputable company will be more than happy to get a list of names and numbers for you.
Be wary, however, of septic contractors who give you the run-around on this question.
If the only person they can put you in touch with is the owner's brother-in-law, you might want to expand your options and look into a different company!