Pools in Florida are a dime a dozen; it feels like many homes on the market come with in-ground pools. So, you may find yourself (or rather your kids) wanting to add a pool to your home. Before you break ground, you need to consider the logistics. When it comes to pools and septic systems, there are few extra things that are added to the list of considerations.
While the pool water system and the septic system are separate, they do share the same yard. And that's where pools and septic systems may run into some issues.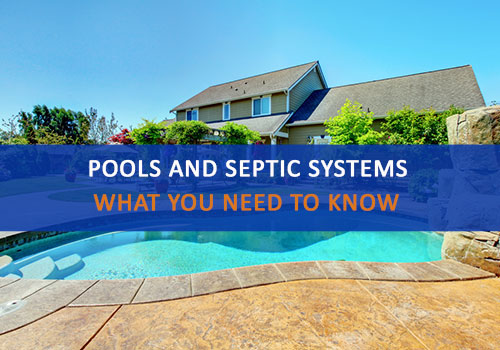 Can You Have a Pool and a Septic System?
When adding a pool to your home, you have two options: above ground and in-ground.
Above Ground Pools and Septic Systems
An above-ground pool is a more accessible addition as it doesn't take a massive construction project and is less intrusive. With an above-ground pool, there are a few essential considerations to keep your septic system safe:
Put the pool away from the septic system, keeping it away from the tank and the drain field. The weight of the filled pool can damage the below-ground septic system.

When leveling the ground, avoid digging near the septic tank or pipes.

Never drain the pool near the drain field. Extra water or a flooded yard can disrupt the natural filtration process of the drain field, leaving contaminated water in your yard.
Above-ground pools are great options for those on a budget or who lack the yard space to handle an in-ground pool.
In-Ground Pools and Septic Systems
Adding an in-ground pool can be an exciting project. Especially with the hot weather in Florida, a pool is a refreshing home addition. But, it's a big undertaking with a few things to consider if you're also a septic owner.
Based on your county code, in-ground pools require minimum distances from septic systems, usually around 20ft. Before breaking ground, check with your contractor, septic technician, and local county office that your plans are within code and that you have the required permits.
And the considerations don't stop there. When the construction starts, make sure all elements of your septic system are mapped out above ground. The heavy equipment and digging can easily damage your septic system, so you'll want to make sure it's clear where people and equipment shouldn't be. If you're unsure where your septic system is located, reach out to your local septic company for assistance.
Once up and running, you'll want to keep your pool pump in a different area than your septic pump and system. The noise of your pool pump can drown out warning noises that you'd otherwise notice within your septic system. Additionally, you'll want to keep the areas surrounding your septic tank uncluttered to make it easy for your scheduled pump-outs.
Hot Tubs and Septic Systems
Adding a hot tub is an easier process than adding a new pool. Usually located closer to your home or on your deck, rarely do you run into any overlap of the hot tub and septic system.
However, that doesn't mean you can do whatever you want.
As with installing a pool, make sure to keep contractors and installation equipment away from your septic. Never drain your hot tub into the yard with chlorinated water as it can contaminate your community's water table. Dispose of chemicals away from home and never flush any chemicals or pool/hot tub water into the septic system. It can kill the naturally occurring bacteria in your tank.
Installing a Pool with a Septic System
A pool or hot tub can be a great addition to your Florida home, as long as it doesn't interfere with your septic system. The two systems operate separately, but they should be separated in your yard as well.