When you think of your septic system, the first word that pops into your head probably isn't delicate. But, your septic system is just that — delicate and vital. So when it comes to working with a septic system contractor on repairs and maintenance, finding the right company for the job is essential.
So, we have taken our decades of knowledge working on septic systems in Florida to create a list of questions you should be asking your septic system contractor.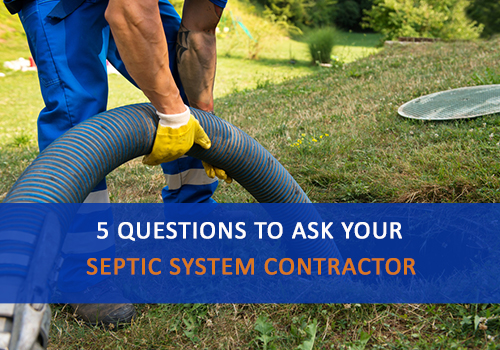 5 Questions to Ask Your Septic System Contractor
You wouldn't scoop anyone off the street and ask them to fix your car or ask them for medical advice. The same goes for your septic system. Taking the time to ask potential septic system contractors a few questions can save you headaches down the road.
1) How Long Have You Been Operating in the Area?
Before hiring would be a great time to find out how many years the septic company has been in operation. If the answer is one week, you may want to find a more experienced septic team.
Further, find out how long they have been operating in the area. 
With the United States have a variety of geological regions, you want a septic system contractor that is familiar with your local area's individual needs when it comes to installing a septic system. From soil types, to rain levels, to topography, to local regulations — these are all things you want to verify your septic contractor is familiar and comfortable with.
3) Who Will Be Performing the Work on My Septic System?
Believe it or not, some septic companies will sublet their contracts. Why? Often they will find a less experienced and cheaper technician to perform the work, pocketing the difference.
We know — it's sad!
Verify with your potential septic company that all work and repairs will be done by someone who works for the company directly (and is thus licensed and insured with knowledge of the area).
4) What's the Process for the Needed Septic Repairs or Maintenance?
We get it; you are hiring a septic system contractor because you are no expert.
And that's smart!
But, it pays to ask a few questions about the process to get a general understanding. How long does the repair or service typically take? Will you be digging up any of the yard to gain access to the system? What pieces do you intend on replacing or repairing?
And take note of how your septic contractor answers. Do they take the time to answer all your questions, making you feel heard and validated? If so, great! If not, perhaps shop around and see if you can find a more patient and understanding septic system contractor.
5) How Much Do Your Services Cost?
Before letting a septic service contractor begin working, ask for an estimate, and agree upon the price.
Sometimes unexpected repairs do appear that will adjust the estimate. But a reliable septic contractor will notify you of the added repair and expense before completing the work, leaving you with no surprises when the final bill is handed over.
Finding a reliable septic system contractor doesn't have to be hard — but it is necessary. Before deciding on a septic company, asking a few questions will give you a better idea of how the company operates and their experience and knowledge.
Have questions? Want to schedule a septic system repair or septic maintenance visit? Contact Advanced Septic Services of Florida today at 352-242-6100.