Located just outside of the booming metropolis of Orlando, FL, the town and community of Clermont, FL is a change from their fast-tracked neighbor. With hills, groves and a quaint atmosphere, Clermont has a lot to offer its residents and visitors. Here is a list of our favorite things to do in Clermont FL.
Discover 12 Fun Things To Do In Clermont FL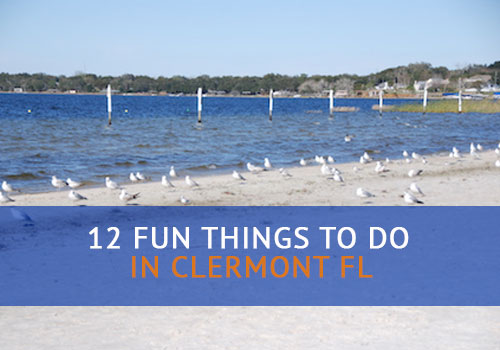 #1 Experience Old Florida In Historic Downtown Clermont
Founded in 1884 and incorporated in 1916, Clermont is one of Florida's fastest growing cities. But, Historic Downtown Clermont keeps to its quaint roots with a scenic downtown center boasting unique retail shops, a variety of restaurants as well as hosting the Art League and City Hall.
Stop by on Sunday mornings for their weekly open-air Farmer's Market featuring over 80 vendors selling fresh fruits, produce, fish and bread as well as homemade crafts, jewelry and more. Or stop by the first Friday night of every night for live music, food trucks and other family-friendly "First Friday" activities.
#2 Create Family Fun at Southern Hills Farms
Located off one of the main highways in Clermont, Southern Hills Farms is a family owned and operated farm offering U-Pick Blueberries during the peak season (generally March – May).
With over 40 acres of land, Southern Hills' first crop came in 2010. Looking for some family fun? Stop by on the weekends when they offer hayrides, host food trucks and open their market and covered playground along with their weekly U-Pick services.  Services are seasonal so be sure to check their event calendar for details before your visit.
#3 Take In The View From Citrus Tower
Built in 1956 as a tribute to the area's booming citrus industry, the 226ft Citrus Tower  is a must see for those in Clermont (literally—you can see it from everywhere).
Standing as a proud testament to pre-Disney tourism in Florida, you can still ride to the top where you are treated to views of Clermont's rolling hills, lakes, the Orlando skyline and Disney World. Visitors get an extra treat during the Holiday Season with the Tower's annual Christmas laser light show.
#4 Tour The President's Hall of Fame
Dubbed a "true national treasure" by President Ronald Reagan, the President's Hall of Fame began in 1960 as a wax museum of prominent American political figures. Today, the museum offers more than wax figures with their White House replicas including the famous Americana miniatures.
The miniatures are made by the museum owners and have gained enough popularity to be displayed in the Smithsonian. The President's Hall of Fame is open 9:00 am to 5:00 pm daily.
#5 Snuggle and Caffeinated at Orlando Cat Café
It has all the normal amenities of a non-cat infested café: great coffee, a relaxing atmosphere and plush chairs (but with cool cats). Located at Cagan's Crossing in Clermont, FL, the Orlando Cat Café teamed up with Axum Coffee and the Animal League to combine coffee with cat snuggles.
Just want a cup of coffee without any hair? Don't worry—the cat play area is in a separate room separated by glass.
There is a fee to enter the adoption area to play with the cats, and it is suggested to make reservations online in advance as they limit the number of people at a time so as not to overwhelm the animals. Adoptions are also available. The café is open Monday thru Sunday with the adoption area open Tuesday thru Sunday.
#6 Play a Round of Disc Golf
In the land of sunshine and golf courses, take to the fairways, but with Frisbees. Designed by the World Championship Disc Golf Design, Lake Hiawatha Preserve's 18-hole course boasts towering oak trees covered in Spanish moss giving golfers plenty of shade on this newly minted course.
#7 Take to the Water to Explore Waterways and Blueways
Situated in Lake County, Florida—Clermont has plenty of lakes to explore. Managed by the Lake County Water Authority, Lake County's waterways and blueways are a great way to spend the day.
With many of the lakes connected by waterways, it's easy to spend the entire day exploring the lake systems by motorized boat. If you want to get away from the wake, check out one of Lake County's Blueways which are designated for human powered crafts. One of our favorites: Crooked River Preserve.
#8 Enjoy Waterfront Park & Standup Paddleboarding
Located on the banks of Lake Minneola, Waterfront Park offers plenty of amenities for those looking to have a family barbecue or for those looking to be active outdoors.
The park comes with all the classic amenities: picnic areas, restrooms, water fountains, playground, swimming area and fishing piers.
For those looking to hit the trails, Waterfront Park offers a 30-mile trail system running along the lake's edge. Better yet, rent a paddleboard or kayak and paddle over to the Tiki Bar to enjoy some well-earned refreshments and snacks while overlooking the lake.
#9 Explore Lake Louisa State Park
With 4,500 acres of beautiful lakes, rolling hills, and outstanding scenery, there isn't a lack of activities at Lake Louisa State Park. Designated as an Outstanding Florida Water Way most visitors take to the water, renting kayaks, canoes or SUPs.
Lake Louisa also offers outstanding hiking and biking trails as well as horseback riding and eco-tours. They are open everyday 8:00 am to sundown and entrance is $5/vehicle.
#10 Walk or Run 10-Mile Loop
Bordering Lake Louisa, this 10-mile clay loop is a favorite among runners and athletes—including some Olympians currently in training. With its rolling hills and soft footing, the 10-mile loop offers something different than paved roads and root-riddled trails.
Plenty of fellow runners help to offer a safe atmosphere for new runners wanting to up their game. Pro tip: start early or suffer the Floridian heat.
#11 Hike Green Mountain Trail and Overlook
While the rest of Florida can be quite flat, Clermont and Lake County boast rolling hills leading to some very scenic overlooks.
Green Mountain Overlook is a great short, maintained trail leading to a 132ft Observation Tower with views of Lake Apopka, Lake County, and Downtown Orlando. Also, the county park is home to over 5,000 species of native plants, 20 species of butterflies and 100 species of birds. Looking for a longer hike? Join the Lake Apopka Trail near the Observation Tower for 18 miles of hiking trail.
#12 Bike or Drive Sugarloaf Mountain
The fifth highest peak in Florida also claims that title as the state's most prominent peak. Jutting out from the surrounding flat land, the 312ft peak of Sugarloaf Mountain formed from sand ridges in the Lake Wales Ridge range. With paved roads leading to the peak and the Green Mountain Scenic Byway running along the eastern side, Sugarloaf Mountain is a popular cyclist and motorcycle destination.
While smaller than its metropolis neighbor, there are plenty of fun things to do in Clermont FL. From unique museums, a quaint downtown, numerous lakes and rolling hills—there is something for everyone! At Advanced Septic Services we feel honored to live, work and play in this unique Lake County area.