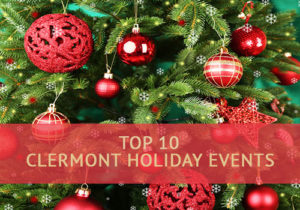 It's time to get into the Christmas spirit with these Clermont Holiday Events and Christmas activities. Join the community for tree lighting ceremonies, fun runs, plays, tea parties, bonfires, and more!
Citrus Tower Christmas Light Shows
When: Every Night in December, 6:00 pm – 10:00 pm
Where: Citrus Tower
Cost: Free
The Citrus Tower does it big and bright for the holidays. Every December evening, the 226ft tall tower turns on over 100,000 Christmas lights in sync with seven-holiday tunes for a spectacular light show.
Free parking with outdoor speakers is available at the base of the tower. The tower is also open for elevator rides to the top for a small fee.
These nightly Clermont Holiday Events, outside of Orlando, FL, aren't to be missed.
Light Up Clermont Holiday Events
When: December 1st & 2nd, 2017 (First Friday & Saturday of December)
Friday 5:30 pm – 9:00 pm; Saturday 10:00 am – 2:00 pm
Where: Historic Downton Clermont, FL
Cost: Free Admission
Light Up Clermont is one of the biggest Clermont Holiday Events. Starting Friday night, witness the annual Tree Lighting Ceremony before enjoying food trucks, holiday music, DJ, and dancing. Santa and Mrs. Claus stop by for pictures as well.
Saturday's events include crafts, food, the annual Holiday Parade, caroling, Toyland and more!
Yes, Virginia, there is a Santa Claus!
When: December 2nd – 10th, 2017
Where: Moonlight Players Warehouse Theatre
Cost: See Website
Join the Moonlight Players for the performance of a classic Christmas story. Watch eight-year-old Virginia and a young newspaper editor find out if Santa is real while finding his writer's voice in a story of the spirit of Christmas.
Visit the Moonlight Players website for more information, show times and pricing.
Clermont Boat Parade
When: December 3, 2017, starting at 6:00 pm
Where: Lake Minnehaha to Lake Minneola
Cost: Free
Hosted by Jet Waterway Sports, you can enjoy by boat or shore. Looking to get into the action? Bring your boat and join in. The parade starts at Lake Minnehaha making it's way to the finish at Lake Minneola.
2017 Wine & Chocolate Holiday Event
When: December 8th, 9th, and 10th
10:00 am – 5:00 pm Friday & Saturday, 11:00 am – 5:00 pm on Sunday
Where: Lakeridge Winery
Cost: $8 for adults. Children 12 and under are free.
This annual Holiday event has a different theme every year. This year, it is Wine and Chocolate—a perfect pairing. Lakeridge Winery plays host to live music on their outdoor stage, local artists, and crafters. Also, they offer complimentary winery tours and wine tastings. Lakeridge wine, beer, soft drinks, and food are available for purchase. Tickets can purchase in advanced or the day-off at the event gate.
Lakeridge Winery's annual Holiday Open House occurs in November and boasts similar fun.
Santa Fun Run
When: December 9, 2017 (First or Second Saturday of December) at 9:00 am
Where: Lake Minneola Waterfront Park
Cost: $15 (Kid's 1K), $25 (5K), or $35 (10K)
Based on an English Race the original organizer witnessed, the Santa Fun Run sees upwards of 200 runners dressed in their Santa-themed finest. After the race, enjoy family-friendly festivities lakeside, including a visit from Santa.
Hosted by the South Lake Rotary, all proceeds go back to the community. This year's recipients are the Greater Clermont Cancer Foundation and Local Education Scholarships.
Registration is due by December 7th for the Kid's 1K dash and December 8th for the 5K and 10K. Registration and more information found here.
Light Up Montverde
When: December 9, 2017, at 6:00 pm
Where: Montverde, FL
Cost: Free
Clermont's neighboring town of Montverde also offers holiday events for the family. Join locals for their annual tree lighting ceremony. Smores, cookies, hot cocoa and a bonfire, will all be present as well as free hot dogs, chips, and soda from the Monteverde Fire Department. Bring blankets and chairs to enjoy the outdoor movie, Rudolph the Red-Nosed Reindeer. In addition, have the smiles ready for photos with Santa and Sparky the Fire Dog.
Toys for Tots donations are encouraged and accepted.
"It's a Wonderful Life" at Erika's Tea Room
When: December 9, 2017, at 6:00 pm
Where: Erika's Tea Room
Cost: $30
Get into the Holiday Spirit with a five-course meal complete with five complimentary teas. Dress to impress—in the ugly Christmas sweater competition that is. Games and sing-a-longs are also on the schedule.
Wanting to host a tea party? Ask Erika's about booking a private holiday event.
Santa's Twilight 5K
When: December 16, 2017, at 6:00 pm
Where: Historic Downtown Clermont
Cost: $25 – $45 depending on when you register
Run through the streets of Historic Downtown Clermont and surrounding neighborhoods in this holiday-themed race. Not their first rodeo, the course is well-monitored and well-lit. Race to the finish for hot chocolate and holiday cookies
All participants are awarded a t-shirt and finisher's medals, with top finisher's awarded placement medals.
Weekly Farmer's Market
When: Every Sunday, 9:00 am – 2:00 pm
Where: Historic Downtown Clermont
Cost: Free Admission
Join 70+ regular vendors, seasonal vendors and local shops every Sunday in the open-air Farmer's Market. Fill your pantry with fresh fruits, vegetables, meat, freshly baked bread and more. Also available, Cottage Crafts, jewelry, specialty teas, and other unique Christmas gifts! Looking to entertain the kids? Stop by the petting zoo!
If you plan to have extra guests for the season don't forget to schedule a pump out service to avoid any unpleasant holiday septic backups. Most of these Clermont Holiday Events are annual celebrations so get out of the house and join the fun (and save your septic system a little bit of work).