Florida is home to more than beaches and coastal towns. In fact, some of the best natural attractions can be found in Central Florida. So when you need a break from Disney World and the bustling city, a relaxing float or hike is never too far away. 
Central Florida Natural Attractions
While Orlando and the surrounding area are known for amusement parks and city attractions, the area has a lot more to offer. The Central Florida natural attractions provide residents and visitors a ton of outdoor activities and relaxation without the two- to three-hour drive to the beach.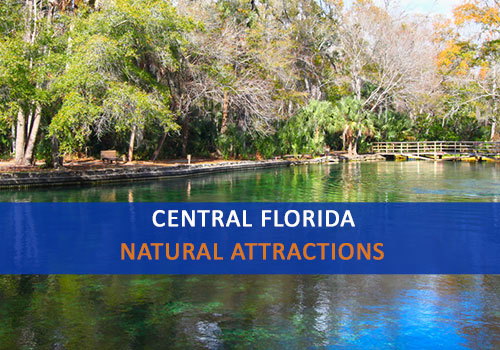 Cool Down in the Water
If you're looking for a refreshing swim or leisurely paddle, check out these waterways, springs, rivers, and lakes.
Rainbow Springs State Park – Dunnellon, FL
The centuries-old Rainbow Spring State Park use to offer the native peoples shade and water and continues to provide a retreat with its lush setting to this day.
The State Park offers paddling and swimming along with camping, hiking, birding, geo-seeking, and more. 
All this makes it a popular spot! Camping reservations are suggested, and visitors should come earlier as the park closes when it reaches capacity.
Rainbow River – Ocala, FL
Are you looking to break out of the crowds on your adventure? Grab a tube and float down the Rainbow River. Its slow, smooth current offers floaters a relaxing ride. 
Tubers have the option to launch from Rainbow Springs State Park or a few other locations.
Wekiwa Springs State Park – Apopka, FL
Right outside of downtown Orlando, Wekiwa Springs State Park is a popular natural attraction offering families a natural water park. Swimmers can take a dip in the clear, blue waters. Hikers can earn that refreshing dip after exploring the miles of available trails.
With the Florida heat and cool waters, expect this Central Florida natural attraction to be busy (especially on weekends). Arrive early to claim your spot before the park reaches capacity. 
Kelly Park and Rock Springs – Apopka, FL
Get ready for a relaxing float at Kelly Park! The favorite activity in the park is to grab a tube and float through Rock Springs, taking in the natural, lush beauty and wildlife. 
The park also offers camping, paddling, and group picnic pavilions. Like other parks, it does fill up quickly, so it's best to go in the morning and plan to spend the day!
Lake County Waterway and Blueway Runs
The county is named correctly and offers some of the most scenic Central Florida natural attractions. The Lake County Community Blueways Project has eight different blueway runs for folks to paddle. Click here for the full list.
Take a Hike
If floating and paddling isn't your speed, or if you find yourself in Central Florida during the Winter, check out these Florida hikes and parks.
Lake Louisa State Park – Clermont, FL
While Lake Louisa also offers paddling, Lake Louisa State Park offers several marked and maintained trails that attract hikers and nature lovers to its shore. From sandy strolls to boardwalks to the shoreline trail, there is a hike for everyone.
Highlands Hammock State Park – Sebring, FL
Take a "journey back in time" while enjoying the fresh air at Highlands Hammock State Park. The park offers nine nature trails, including a boardwalk through a cypress swamp and a path through a virgin hardwood forest. Camping is also available in the park.
Lake Kissimmee State Park – Lake Wales, FL
Lake Kissimmee State Park offers hiking and a glimpse into the Florida of old. One of the most popular stops in the park is the 1876-era cow camp showing off Florida's cowboy heritage.
Hiking in Clermont, FL
Clermont, FL may surprise a few folks with its lake views and hills that go against the notion that Florida is entirely flat. Check out one of these ten hikes in Clermont, Fl, to enjoy the area's natural beauty. 
Visiting Central Florida
Central Florida offers more than just theme parks; the area's natural attractions should not be ignored. For residents, it's time to start checking these Central Florida natural attractions on your list. 
See you out there!