Were you thinking about selling your home? What does that mean for your septic system?
If your house has one, it's essential to make sure the system is working properly before selling your home. Sellers who don't do this may open themselves up to costly lawsuits from buyers. Below, you'll find everything you need to know about selling a home with a septic system.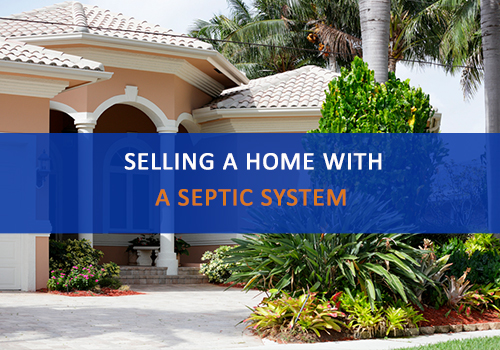 Selling a Home with a Septic System: the Inspection
One of the first things a buyer may ask for is a complete septic system inspection. This is a reasonable request and one that you should make sure to accommodate. A trained septic system specialist will come out to your property and ensure that your system is working correctly. After the inspection is complete, the buyer will know whether any repairs are needed or if everything is functioning correctly.
Generally, it's better to let the buyer handle the septic system inspection themselves. This avoids any conflicts of interest and will save you from liability down the line. You wouldn't want a buyer to accuse you of providing self-serving information if they encounter a septic system issue a few years after purchasing your home. 
Additionally, be mindful of who you hire. We recommend that you only hire septic system inspectors who have passed all of your state's licensing requirements — like Advanced Septic Services of Florida. 
Provide Detailed Information About Your Septic System to the Buyer
When selling a home with a septic system, it's also essential to provide all of the information you have about your system to the buyer. This is a list that should include things like your system's:
Age

Component Types
Component Locations
Service and Repair History
Don't worry if you don't have all of this information. Just do your best to provide as many accurate details about your system as you can. When an inspector visits, they may have to speculate if you don't know much about your septic system. This could cause your buyer to request unnecessary repairs, which will ultimately cost you money. Providing the buyer with a detailed report of your septic system will allow you to avoid this issue entirely.
Selling a Home That's Septic System Needs Repairs

 
Of course, your septic system may not currently be in excellent condition. When an inspector visits, they may notice things like odors, wet areas, and sewage backups that indicate there's a problem with your system. But don't worry. If your septic system needs repairs, you can still sell your home. You may have to work with the buyer to negotiate price or repair the system before selling.
Most importantly, it would help if you were upfront about the issues that you know about. Withholding information from a buyer is never worth it and will end up costing you more in legal fees than it would fix the septic issue now. Your repairs could be as simple as unclogging a pipe or as costly as replacing the entire system. A septic system inspector will be able to tell you more once they visit your property.
To fix your septic issues, you can get a quote from a professional and negotiate with the buyer to reduce your home's price by that amount. You may also want to allow the buyer to handle the repairs themselves so that they have more confidence the issues were fixed correctly.
Advanced Septic Services is Florida's Septic Solution
Advanced Septic Services can handle virtually any repair your septic system may need. Whether buying or selling a home with a septic system, we can help you every step of the way. We'll provide you and your buyer with lasting peace of mind, so you don't have to worry about the property's septic system. So give us a call at 342-242-6100. 
We look forward to hearing from you.