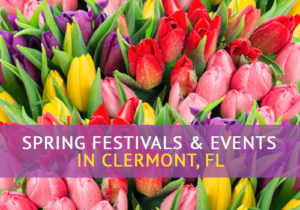 The groundhog may have said six more weeks of winter, but the warm Florida weather does not agree. The mid to upper 70-degree weather makes you dream of flowers and beach trips. Ready to celebrate the end of one of the coldest winters of Florida in style? Here are some spring events in Clermont, FL to kick-off the warmer months to come.
Festivals and Spring Events in Clermont, FL
Maybe it's a family-fun event. Or a scavenger hunt. Or a clean up to help the community shine. Here are some festivals and spring events in Clermont, FL.
Pig on the Pond Community Festival
Start the spring season off with a bang and one of Clermont's biggest events: Pig on the Pond. This annual festival has been bringing the South Lake and Lake County community together for almost 20 years. Enjoy delicious BBQ, live entertainment, carnival rides, fireworks and much more!
This spring festival is hosted by Project Scholars, which provides educational scholarships and support for local students. In addition, 20 other local, non-profits will attend, conducting fundraising for education.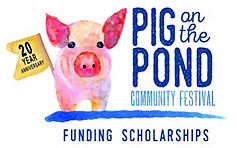 When:
Friday, March 9, 2018 – 5:00 pm – 10:00 pm
Saturday, March 10, 2018 – 10:00 am – 10:00 pm
Sunday, March 11, 2018 – 11:00 am – 6:00 pm
Where: Clermont Waterfront Park (103rd Street, Clermont, FL 34711)
There is no on-site parking. For free shuttle and parking information, visit pigonthepond.org.
10th Annual Wine & Seafood Festival
Meet at the Lakeridge Winery for the 10th Annual Wine & Seafood Festival—the perfect pairing! With a decade of hosting this event, Lake Ridge Winery has it dialed with outdoor live music and entertainment through the whole weekend.
Lakeridge wine, beer and soft drinks along with seafood specialties and pairings are available for purchase. Complimentary Winery tours and tastings are available through the event.
When:
Friday, March 23, 2018 – 10:00am – 5:00pm
Saturday, March 24, 2018 – 10:00am – 5:00pm
Sunday, March 25, 2018 – 11:00am – 5:00pm
Where: Lakeridge Winery & Vineyards (19239 US 27 North, Clermont, FL 34715)
Cost: Adults $10; Children 12 & Under are free. A portion of the proceeds benefit the Central Florida Dreamplex.
Lakeridge Winery also plays host to other spring events in Clermont, including Blues at the Winery and Jazz on the Vineyard Green.
Clermont Cycle & Seek
Join friends and family for this family-fun scavenger hunt—on wheels! Teams of 2-4 people race around Downtown Clermont, discovering unique local businesses and fun facts about the city. Teams link clues together, trying to make it back first!
The Clermont Cycle & Seek starts and ends at Waterfront Park with music, prizes and more. All levels and types of riders encouraged to participate.
When: March 31, 2018, Noon – 4:00 pm (Registration at 11:00 am)
Where: Waterfront Park in Downtown Clermont
16th Annual South Lake Family Expo
Hosted by the Clermont Woman's Club, family and community are the focus of this open-to-all event. Stroll through booths related to health, nutrition, travel, healthcare. Additionally, vendors selling fashion, hand-crafted jewelry and crafts will be present.
The South Lake Family Expo helps the Woman's Club raise money for scholarships. These scholarships award three young women graduating from local schools pursue future educational opportunities.
Admission is free and open to all.
When: Saturday, April 7, 2018, 10:00 am – 2:00 pm
Where: Wesley Center at First United Methodist Church, 950 7th St. Clermont, FL 34712
Clermont Earth Day & Lake Clean Up
Celebrate Earth Day and our natural wonders by joining the community and giving back at the Clermont Earth Day & Lake Clean Up. Last year, over 1,500 pounds of trash left Clermont's Lakes. Let's do it again!
This event also offers environmental education, an Earth Kids Zone, Live Music and Entertainment, Non-Profit vendors and more! Keep our lakes beautiful with this free spring event in Clermont.
When: Saturday, April 21, 2018
Where: TBD
Annual Spring Flower Festival
Take a stroll through flower lined streets and celebrate spring with the Second Annual Spring Flower Festival!
Shop 50+ local merchants, jam to live music, grab a snack from gourmet trucks and dress in your finest for the Orange Blossom Bonnet Parade. This event is open to everyone of all ages.
When: Saturday, May 5, 2018, 10:00 am – 8:00 pm
Where: Historic Downtown Clermont
This is a free event, but will benefit The Pink Bow Foundation.
#ArtHistoryTrending
Have selfies replaced self-portraits? This series uses humor and modern trends while explaining historical themes. In fact, it may surprise you that some things have been "trending" for years, reappearing in new ways through history.
This is a four-part series hosted by the Winter Garden Art Association, a few miles down the road from Clermont, FL. Reserve your spot online or by calling 407-347-7996.
When:
Pop Culture, Social Media & Instagram – Thursday, March 29th from 6:00 – 7:30 pm
Still Lifes & #SquadGoals – Thursday, April 12th from 6:00 – 7:30 pm
Self-Portraits vs. #SelfieCulture – Thursday, April 19th from 6:00 – 7:30 pm
#Memes, #Themes & Devious Schemes (Symbolism & the Power of a Pictorial Society) – Thursday, April 26th from 6:00 – 7:30 pm
Where: SoBo Gallery, 127 S. Boyd Street, Winter Garden, FL 34787
Cost: $10 for members / $15 for nonmembers
Reoccurring Events in Clermont, FL
First Friday in Historic Downtown Clermont
A monthly event, join the Clermont community for family-fun festivities. Grab a bite to eat from a selection of food trucks. Bring a chair or blanket and enjoy Live Music. Do a little late night shopping. There is something for everyone.
As the name suggests, this event occurs the first Friday of every month. Food trucks and street vendors open at 5:30 pm. Music begins at 6:00 pm. Downtown shops stay open until 9:00 pm.
Downtown Clermont Farmer's Market
Get a taste of the local flavor at the weekly Clermont, FL Farmer's Market. All downtown shops keep normal hours with addition street vendors and locals selling fresh produce, eggs, fish, bread and pastries, hand-made crafts, jewelry and more.
Held every Sunday from 9:00 am – 2:00 pm in Downtown Clermont, FL. Free parking available.
There are always things to do in Lake County, FL. Looking for other events or activities in the area? Try a few of the nearby trail systems. Grab a boat and paddle Lake County's Waterways and Blueways. Or enjoy local museums and shops. We have more than spring events in Clermont, that's just part of the fun!