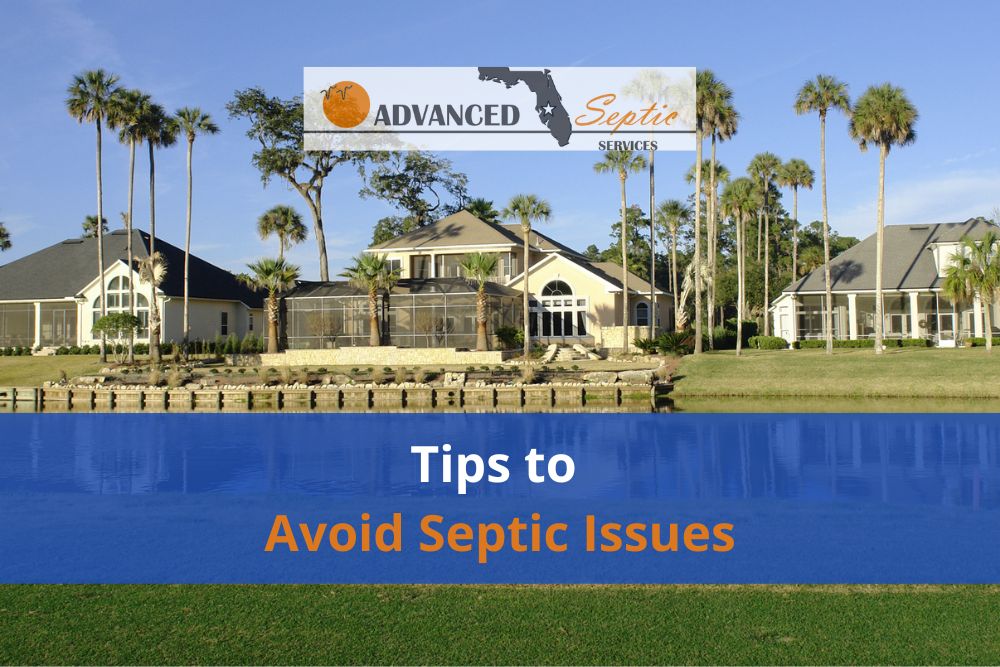 If you're a homeowner with a septic tank on your property, the key to ensuring the longevity of your septic system and to avoid septic issues is preventative maintenance. To keep your system healthy and running efficiently, there are a few things you should (and shouldn't!) do.
Ideally, septic systems should last between 20-30 years. There are a wide variety of factors that can alter this lifespan and if you're looking to keep your septic system in optimal shape, you should be practicing yearly maintenance and pumping the tank every few years.
Frequently Cited Septic Issues
One of the main septic tank-related issues that families experience is a blockage, which can cause toilets, sinks, and drains to become backed up and potentially overflow into the home. When blockages are forming, you may notice that bathtubs and sinks are slower to drain — indicating there is something in the pipes.
Septic issues commonly occur underground, where you may not notice them until they bubble up through your drains. If you notice unpleasant smells and gurgling noises, these both indicate you should call in the professionals sooner rather than later.
Some septic issues are due to poor installation practices, which can prove to be a consistent problem for homeowners. If you have a soil-based system with a leach field and the site has inadequate soil and excessive sloping, this can place excess wear and tear on your system.
Many septic system issues are due to poor and infrequent maintenance. It's easy to forget about your septic system when it's working as it should. When things go wrong, however, it becomes an emergency and lack of maintenance can lead to an expensive repair job. It's best to do your best to avoid septic issues.
Top 3 Tips to Avoid Septic Issues
If you've yet to experience any septic issues, you likely want to keep it that way. The professionals recommend a few key tips to continue avoiding expensive, preventable repair work on your tank, drainfield, and pipes.
Schedule Regular Maintenance
The number one best tip for avoiding septic tank issues is to schedule regular maintenance for your septic system. Hiring a professional every year to inspect the system and to recommend any additional maintenance required is the best way to ensure the system is functioning up to par and that there are no blockages or grease buildup within the tank or the pipes. The recommended maintenance schedule for a tank pump is 3-5 years.
Watch What You Rinse Down the Drain
For home cooks, it's paramount to study the list of items that should never be tossed down the sink. Take care when washing greasy pans, as this grease can solidify within the septic system and cause a headache down the line. Harsh chemicals should also never be rinsed down a drain as they kill off the helpful bacteria in your septic tank. And remember, your garbage disposal is not a trash can.
Avoid Parking on the Drainfield
Septic systems are particularly susceptible to damage when vehicles or other heavy machinery are parked on top of them. This can lead to crushed pipes and compacted soil, which prevents the water from percolating through the soil correctly, disrupting it's final treatment. You should avoid driving over your septic field to prevent excessive strain on the system. Homeowners should also never build decks, pools, or any other structure on top of the field. Ideally, leach fields will last several decades before needing to be replaced.
Need Septic Maintenance? Give Us a Holler!
If you're experiencing any septic issues, the experts at Advanced Septic Services of Florida can assist. We provide honest, reliable, and affordable septic system maintenance to residents in Clermont, Groveland, Winter Garden, Lake County, Ocoee, and Central Florida areas. We can provide a yearly inspection of your septic system and recommend when you should have your tank pumped for proper upkeep of your system.