Great question! In the state of Florida, homeowners insurance is not a requirement. However, if you have a mortgage on your home, homeowners insurance is required to protect the asset (and the bank's security interest). 
For those whose home utilizes a septic system, you may wonder when does homeowners insurance cover septic systems. The answer is that it varies. 
As most insurance policyholders know, what's covered and what isn't covered often comes down to what caused the damages, not the damages themselves. That list coincides with some septic best practices and maintenance tips (surprise!).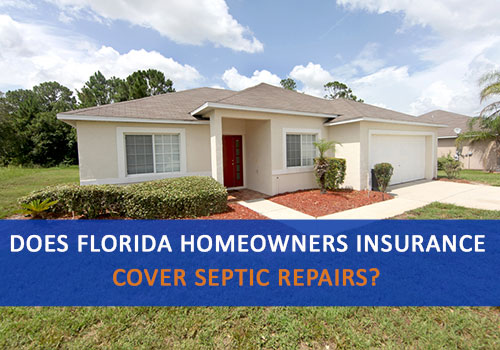 When Does Florida Homeowners Insurance Cover Septic Repairs?
For Florida homeowners, we already know that storms can cause significant damage to our homes — including the septic systems in our yards. Luckily, that's when homeowners insurance comes in handy.
It's important to note that not all policies are created equal. The below items are a *general* list of what Florida homeowners insurance policies will commonly cover for septic repairs. It's essential to verify with your own insurance company before assuming coverage.
In Florida, septic damages that are "sudden" and out of human control are often covered. Those include:
Lightening 

Fires

Hurricanes or Abnormal Flooding

Vandalism

Damages Caused by Cars, Trucks, or Aircraft (if not caused by the policy holder's error)

Electrical Current, Fires, or Explosions
Poor Maintenance or Use Isn't Covered By Insurance
Unfortunately, most needed septic repairs aren't caused by the above list of items. Most of the septic issues we see are caused by inappropriate use, poor maintenance, or normal wear and tear. 
Some of the most common issues we encounter are:
Avoiding Septic Repairs and Costs
If you don't want the hefty bill of septic repairs, it's essential to take care of your septic system. Here are a few helpful resources to educate yourself on the septic rules and responsibilities:
A little effort goes a long way to keeping your septic happy and healthy. If you're wondering does homeowners insurance cover septic repairs, the answer is often if the damage was from human error. Hopefully, if you're a responsible septic owner, that answer is no!
In need of a septic appointment or repair in Lake County or Central Florida? Advanced Septic Services proudly serves homeowners' and businesses' needs, providing residential and commercial septic services in the Central Florida Area. Call us today at 352-242-6100 to schedule a septic repair or maintenance appointment.